It seems that my generation, the millennials, are on a first date, sitting at a metaphorical dinner table. We don't talk politics which means we aren't educating ourselves, and if we are, we aren't voting. We're supposed to be the next great generation initiating change but we're waiting on someone else to dip into the bread basket first.
Healthcare is a particular topic that many find daunting. I know that before working in healthcare, I did not actively seek information on policies and programs. This can be dangerous because we leave the research up to others and they develop opinions for us. Information can often be skewed to support a certain opinion or ulterior motive. One program in particular that has made a huge impact, but not in the way big pharma wants you to think, is the 340B Drug Pricing Program. Not many people know about the program, and that lack of awareness benefits pharmaceutical companies because 340B can be easily overlooked, and that should be extremely concerning to you.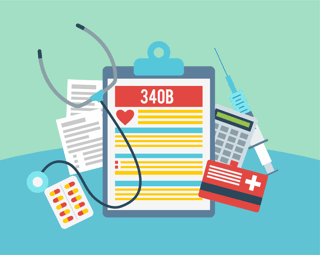 Enacted in 1992, the 340B program requires drug manufacturers to sell certain drugs at a discounted price to safety net hospitals that serve underserved portions of our population. The program is absolutely essential in rural and urban communities where there is a higher population of poor and uninsured people, or where access to healthcare is limited. The savings from the program allow these facilities to supply care to those who need it, offer extended services to their communities, and ultimately keep their doors open.
Cutting the program has serious consequences that affect real people. Having access to healthcare should not be a privilege awarded to those who live in affluent communities or large cities. Healthcare should be available so that people can go through life with a little less to worry about.
The pharmaceutical industry's lobbyists would like you to believe that cutting 340B saves money, but in reality, the only ones who benefit from reforming the 340B program are big pharma companies. The discount on drugs the 340B program provides keeps the already bloated industry from making more money off the little guy. Do your research and you will find the real reason lobbyists in Washington are spending so much money to get rid of this program. It's time to roll up our sleeves, butter the bread, and get serious about advocating for the support of 340B!
Want to get involved? Here are three ways to learn more or take action!
Watch the hearing on 340B:

The House Energy and Commerce Committee will hold a

hearing

entitled, "Examining How Covered Entities Utilize the 340B Drug Pricing Program" next Wednesday, October 11, 2017, at 10 a.m. The hearing webcast will be available at energycommerce.house.gov.


Find out if health centers near you are part of 340B

by going to

https://340bopais.hrsa.gov/

, and then choosing Search -> Search Covered Entities, and then typing in your zip code in the zip code field and clicking search. I think you will be surprised by how many health providers rely on 340B to serve their communities.

Email your lawmakers to tell them you support 340B. Here is a template you can use

to contact your elected officials in support of the 340B Drug Pricing Program.

Erika Pfeifer, Marketing and Client Success Coordinator
Erika Pfeifer is the liaison between Marketing and Client Success at Equiscript. She works with both teams to collaborate and come up with ways to better reach and serve our patients, clients, and communities. Erika is a graduate of the University of Arkansas where she studied communication and marketing.