The doctor nudged the sheepish patient into my office, his hand on the patient's shoulder. "This gentleman's blood sugar is higher than normal, and it's creeping up to diabetic levels. Please explain pre-diabetes to him, and see if you can help him with a plan to keep him from progressing to Type 2 diabetes."
Several observations came to me in a rush: (1) This patient seems startled by this news. (2) Yay! The doctor used the current term "pre-diabetes" rather than the last century, false comfort of "borderline" diabetes. (3) How wonderful to have an opportunity to help this person prevent Type 2 diabetes, rather than wait until diabetes has moved in and started its damage!
Please note: At this point, Type 1 diabetes is not preventable, though very smart people around the world are working to make this a reality. Type 1 is not related to a person's habits and lifestyle. There is ample evidence that Type 2 is.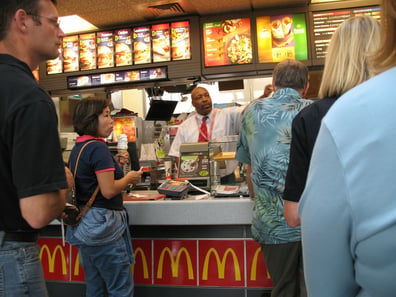 "McDonald's, Long Line" (CC BY 2.0) by Consumerist Dot Com


The patient willingly engaged in my assessment of his current habits and health goals. Fifteen minutes later, it was clear that my explanations of pre-diabetes and what to do about it weren't making sense to him, though his posture and intent focus told me he was trying. Then his eyes popped wide open and he said "So, it's like I'm in line to pick up an order of diabetes, is that right?" I was thrilled that he got it, despite my efforts that missed the target. "YES! That's it exactly! You're in the Type 2 Diabetes line."
What he said next changed my practice as a Certified Diabetes Educator: "Well, can I step out of the line?"
His insight got us on the same page immediately. He had seen the effects of Type 2 diabetes on his family and was clear about wanting to "do better" in order to minimize his chances of ending up as they did. He was forthright about which habits he was willing to change and - just as important - which he was not, and what he wanted to tackle first, before his next three-month appointment.
He and I were both lucky that day. His forward-thinking MD acknowledged the need to treat pre-diabetes as the real diagnosis it is, and walked the patient to my office for education immediately after the office visit. He didn't let the man leave the building! The patient had the benefit of learning that he was on the way to developing a serious, chronic disease unless he made changes. (Too many people do not find out until the complications of diabetes make their appearance.) I won the jackpot by spending time with this engaged gentleman who gave me the great gift of "Can I step out of the line?" which I've shared with many other patients and Diabetes Educators.
How about you - are you in line for Type 2 Diabetes? Are you in one of the two groups of people who should be checked for PRE-diabetes? The testing recommendations refer to "overweight" people. It's hard to be objective about one's own weight category; check out the CDC's Adult BMI Calculator to determine what range you're in. (Think of your BMI score as an indicator of your chance of developing a chronic disease. There's also a BMI Calculator for Children & Teens.) The Joslin Diabetes Center lists nine risk factors for developing diabetes that those of us who want to age healthy would be wise to know.


Download a FREE copy of our Medication Adherence ebook!


About those lab results - do you (a little nervously) disregard higher-than-normal blood sugar readings because "I just ate" or "I forgot and had a soft drink on my way to the lab"? Well, there are normal blood sugar values for fasting blood sugar readings, non-fasting readings, for HgA1c (your average blood sugar for the last three months), or for blood sugar testing at random times! As my grandmother used to say, "Blood will tell." I never knew what she meant, but it seems appropriate here.

You don't feel unwell, you aren't having any symptoms; why should you care? Because when it comes to Type 2 Diabetes, there's a lot we can do to prevent it or to push it years down the road. The majority of Americans who are in a pre-diabetic state will go on to develop Type 2 Diabetes within ten years, if no changes are made. We can lower our risk of diabetes a whopping 58% by losing 7% of body weight. Another powerful habit - walk at a moderate pace for 30 minutes daily, at least 5 days each week. Walking after meals is especially impactful on lowering risk.

Wondering how "safe" you are? Invest less than a minute of your time on the American Diabetes Association's Type 2 Diabetes Risk Test to find out where you are on a scale of 1-10 for developing diabetes. The bad news: you get a high risk score. The good news: you find out in time to do something about it, years before undiagnosed diabetes claims your health. CDC statistics from 2017 tell us that one in three American adults (33.9%) has PRE-diabetes - 1 in 3! - and that nearly one in four of us (23.8%) have diabetes and do not know it!
I overheard this same doctor telling another patient "The medication will help you control this condition, but it won't control the condition for you. You have a role in this as well." The Big Lesson I learned from my 30s was "Find out what you need to find out." So find out - are you in the Type 2 Diabetes line? Your provider can help you get out of the line, but can't medicate you out of it. If you're told that you have Pre-Diabetes or Type 2 Diabetes, ask for time with a CDE (Certified Diabetes Educator) or a Registered Dietician. We can help you make adjustments that will fit into your goals and your lifestyle. (And, pre-diabetes education is now covered under Medicare!)
If it's true that knowledge is power, use that power to affect your health risk around Type 2 Diabetes. Take a breath and check out your risk level. And know that what's good for diabetes self-management and prevention is also good for blood pressure and cardiovascular health.
You're already sweet enough without the high blood sugar!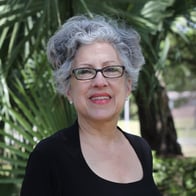 Donna LaBrasca, M. Ed., CDE
Quality Assurance and Training Coordinator
Donna LaBrasca is the Quality Assurance and Training Coordinator at Equiscript. She spent her undergraduate years studying Psychology at Clemson University, then received a Master's degree in Counseling from The Citadel. Donna has been a Certified Diabetes Educator since 1989 and enjoys keeping up to date with new research. Reading, cooking, and BBC dramas are hobbies of Donna's. She has also been a Master Gardener almost three decades and even xeriscaped her yard!