The decision to switch to a vegan diet was surprisingly easy for me because at the time, I didn't have much of a choice. While breaking food habits is difficult, the fate of your health and threat to your lifestyle can be a real motivator.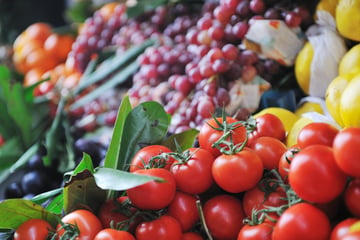 Some backstory for you: two years ago I woke up, rolled out of bed, and immediately dropped to the floor in excruciating pain. I could not walk, much less put any weight on my foot. A large lump had appeared seemingly overnight. I called into work, which is something I never do, and proceeded to schedule a doctors appointment after the weekend to see if the pain and the lump would subside. They did not.
I was referred to a specialist who ordered an emergency CT scan. If I wasn't worried before, I was then. She came back and said that they believed the mass to be a Giant Cell Tumor. She said my only option was surgery to remove the mass and test it to find out if it was malignant. In a matter of weeks, I was in the hospital being prepped for surgery.
At the time, I was in college, which was located on a very hilly campus and I worked in a restaurant waiting tables. A foot surgery was the epitome of inconvenience. For the next month I would be required to limit my mobility and use crutches. However, the good news was that my results came back and it was in fact a Giant Cell Tumor and it was benign. My doctor also told me that I need to be cautious because Giant Cell Tumors have a high recurrence rate and don't always appear in the same spot.
I resoled not to have to go through another surgery and the only way I felt I could control that was through my diet. Enter, veganism.
Vegan diets are often referred to as a plant-based diet. I think it's important for me to clarify that I chose dietary veganism. Dietary veganism refers to those who choose to eliminate animal products from their diet but not necessarily from other aspects of their life such as clothing or makeup. I'm not actually sure if my clothing or makeup during this time was vegan therefore I can't claim that I was a true vegan in all aspects.
I had heard about plant-based nutrition and the health benefits associated with it but never truly considered trying it for myself. Until then. I had watched documentaries and read success stories about how vegan diets can positively impact your health. Some included even going into remission without the use of chemotherapy or radiation. I was on board and ready to make a change.
I researched recipes and meal plans so that I wouldn't fall into the category of an unhealthy vegan. Yes, veganism can be unhealthy if done incorrectly. Technically, you could eat all the bread and Swedish Fish in the world on a vegan diet if you wanted to, but you wouldn't benefit from it and it is certainly not healthy.
At first it was a little overwhelming. My first grocery trip as a vegan I went to Ozark Natural Foods and spent $90 on one-and-a-half eco-friendly brown paper bags worth of items. As a college student who had just spent over $800 on surgery and copays, my excitement quickly turned into uncertainty. Could I even afford to be vegan?
What I came to realize is making the initial switch is expensive but that's because you have to start from scratch and rebuild your pantry. I started to own things like vegan Worcestershire sauce, vegan protein powder, and mason jars filled with raw lentils and black beans. My weekly trips were less expensive than the first because they were to get fresh fruits and vegetables, something I was used to doing before.
The hardest part for me was meal prepping. As a student and a server, my schedule was anything but routine. I was not able to spend the time every day to make breakfast, lunch, and dinner and would often have to skip meals. Meal prepping for the week was vital but time consuming. At first, I was prepping the same meal for each day of the week. I quickly realized I would waste food and money that way because by day three I was over beans, quinoa, nuts, and broccoli. I can't even look at red pepper hummus anymore. From then on, my meal prep had more variety. I did one meal for a couple of days and then switched to something different. Protein smoothies became a staple in my diet, especially for breakfast.
Eating out was more frustrating than it was difficult. As a server, I hated to be "that" customer. You know, the one that asks what is in every item on the menu or how it gets prepared and then modifies their entire order. It was much easier to just not go out to eat. Luckily, if I didn't want to cook one night after work or eat a meal from Tupperware, I worked in a restaurant where the cooks were more than willing to whip up something that was vegan friendly.
Even through all of my troubles with meal prepping and my schedule, or lack of, I saw physical benefits. I had people complimenting my skin, I lost about fifteen pounds without working out because my foot was still healing, and I just felt better and healthier. Best of all, there were no signs of any tumors.
My life as a vegan only lasted a little over two months and I'll tell you why. First: it's hard if you do, in fact, like meat and dairy. Cheese alone is a food group for me. Second, my work and school schedule made it especially hard to spend time in the kitchen or actually eat the meals that I prepped. Third, my birthday was coming up and I wanted to be able to indulge a little because I deserved it.
I thought that I might return to a vegan diet after my birthday but I didn't because of my first two reasons. Although it was short lived, here is what I learned and some helpful tips if you so choose to venture into veganism.
If you decide to choose a vegan or plant based diet, consult your doctor or a nutritionist to make sure it makes sense for you and that you're getting the proper nutrition that your body requires.

It may help to start small. Start by getting rid of meat, then dairy, and then all animal products. I quit cold turkey but that might not work for everyone.

Don't let sticker shock scare you. There are some high ticket items that come along with a plant-based diet if you like to make fancy Pinterest meals. Just remember that you're investing in your body and that should be worth it.

Create a meal plan that works with your schedule. I can't stress this enough. Vegan diets are hard enough and your meal plan will be your best friend.

If you decide to end your vegan diet, do it gradually. Your body will have gotten used to your new eating habits and needs time to adjust to change. I started adding animal products back into my diet about three weeks before my birthday and had no issues but that timeline could be different for others.
While I may no longer be vegan, I adopted healthier eating habits. I pay more attention to labels and what I'm putting into my body. I make smarter decisions in the grocery store and even held onto a couple of recipes. It's been two years since my surgery and still no tumor. That could be luck but I like to attribute it to my two months as a vegan.




Erika Pfeifer, Marketing and Client Success Coordinator
Erika Pfeifer is the liaison between Marketing and Client Success at Equiscript. She works with both teams to collaborate and come up with ways to better reach and serve our patients, clients, and communities. Erika is a graduate of the University of Arkansas where she studied communication and marketing.