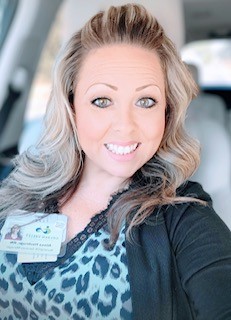 Please join us in celebrating Alissa Haubruge, Nursing/OB Services Manager at Golden Valley Health Centers. Alissa is Equiscript's Site Champion Spotlight for October!


Site Champions play a significant role in the success of Equiscript home delivery pharmacy programs across the country. They serve as the primary point of contact between the Equiscript team, providers, and patients. Site Champions are super-organized, super-involved superstars who carry out the tasks necessary to make a successful pharmacy program.

Golden Valley Health Centers (GVHC) began as a "hospital-operated migrant health program." It became a non-profit corporation in 1973 and has since grown substantially, with thirty-six sites serving over 140,000 patients each year. Alissa Haubruge is the Nursing/OB Services Manager at GVHC and has been in her role there for a year.

We were able to ask Alissa some questions about her role and experience as an Equsicript Site Champion. Take a look at what she had to say!

What do you love about your job?
I love my job because it gives me the opportunity to help those in need and to make a difference in the lives of others, which I also contribute to all of the incredibly dedicated nurses that I am fortunate enough to work with.

What do you like about being the Site Champion for your health center's home delivery pharmacy program?
Being a Site Champion signifies that we have been able to provide this necessary service to many of our patients. I am proud of how many patients we have enrolled in this program and all of the work that is being done to make medications more easily accessible to them.

How has your experience working with Equiscript been so far?
Working with Equiscript has been wonderful! They have been readily available to assist our team and provide support whenever needed and the communication that Equiscript has with our organization is remarkable.

What advice do you have for other Site Champs?
I would advise the other Site Champs to utilize the assistance that Equiscript provides, in order to ensure that your team is able to work efficiently to meet patient needs and to capture as many patient enrollments as possible in order to provide this valuable service to them.

How valuable is the home delivery pharmacy program to your patients?
Working for a Federally Qualified Health Center, we provide services to the underserved community. In this setting, home delivery pharmacy services can be vital to making sure that our patients receive their medications consistently when things like lack of transportation can be a barrier.

What is the main barrier to accessing healthcare that your patients experience?
Financial barriers are a large part of what prevents our patients from having access to healthcare, which often includes lack of transportation or unreliable transportation. Cultural barriers are also a contributing factor in accessing healthcare and healthcare maintenance.

Would you recommend our program to other organizations like yours? Why?
I would highly recommend Equiscript's home delivery pharmacy program to other organizations. Having reliable and consistent access to medications is key to maintaining overall health for our patients.

Is there anything else you would like to add?
I really appreciate the time spent and support that Equiscript has provided to our team. Due to Covid-19 and the increased need for testing and vaccinating, our staff has been spread very thin. It is with the help of the Equiscript staff and their assistance with getting our nurses enrolled in the portal and providing them with training, that we have been able to allocate additional staff in an effort to keep up with the increased volume of Equiscript enrollments.

Equiscript Account Executive, Georgia Spiropoulos, said, "Alissa's support has been critical in the recent increase of new enrollments at Golden Valley Health Centers. She ensured success by putting a team together to work on the portal and review new patient medications and send in prescriptions directly to EquiscriptRx. She has done this during a time where she was short-staffed and taxed with many daily challenges of Covid 19. She is dedicated to her patients and sees the value Equiscript brings to her patients. Her support and efforts are recognized and greatly appreciated!"

Site Champions help to ensure that patients get the best quality service and that they get their medications when they need them - which keeps patients happier, healthier, and more compliant with their healthcare. Thank you, Alissa, for being a top-notch Site Champion!