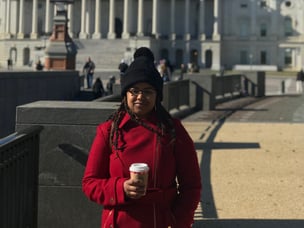 Please join us in celebrating Brittany Inman, Center Nurse, at Greater Baden Medical Service Inc, in Brandywine, MD. Brittany is Equiscript's Site Champion Spotlight for November!

Site Champions play a significant role in the success of Equiscript home delivery pharmacy programs across the country. They serve as the primary point of contact between the Equiscript team, providers, and patients. Site Champions are super-organized, super-involved superstars who carry out the tasks necessary to make a successful pharmacy program.

Greater Baden Medical Service Inc (Greater Baden) is a Federally Qualified Community Health Center (FQHC) that offers pediatric care, adult care, dental services, behavioral health treatments, and several specialty programs. With six locations, Greater Baden serves over 19,000 patients each year.

Brittany Inman has worked with Greater Baden for nearly two years as a Center Nurse at their La Plata and Leonardtown locations. She said her favorite thing about her job is the people she gets to work with.

As an Equiscript Site Champion, Brittany said that she likes helping patients get their prescriptions. She also said, "The home delivery pharmacy has allowed patients to get prescriptions delivered to their home, which has helped alleviate some fear about having to go to the pharmacy, and potentially getting exposed to COVID-19."

Equiscript Client Success Specialist, Kerry Tary, nominated Brittany for the award and said, "I nominated Brittany because both Emily Mark (Equiscript Client Relationship Manager) and I are impressed with Brittany's commitment and dedication to the Equiscript program, and helping her patients get the care they deserve."

Site Champions help to ensure that patients get the best quality service and that they get their medications when they need them - which keeps patients happier, healthier, and more compliant with their healthcare. Thank you, Brittany, for being a top-notch Site Champion!