Equiscript is PillPack's exclusive partner for 340B
PillPack and Equiscript work together to help Covered Entities offer PillPack pharmacy services as part of their 340B programs. Equiscript is PillPack's preferred vendor for 340B, which means Equiscript is your first step for creating a medication delivery program with PillPack.
Watch this video to learn more about the PillPack and Equiscript partnership:
PillPack brings added pharmacy benefits to your patients: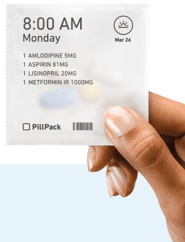 PillPack pre-sorts medications into convenient dose packaging that is shipped to the patient's home.
Each month, customers receive a personalized roll of pre-sorted medications, along with a convenient dispenser.
Shipments can include medications that cannot be placed into packets, like liquids and inhalers.
Each PillPack box is labeled with photos of the included medications and directions on how each one should be taken.
Packs are organized and labeled by the date and time each set of medications is to be taken by the patient.
Patients can order vitamins and other over-the-counter items as part of their shipment.
PillPack offers online and mobile customer service tools, as well as 24/7 phone access to a licensed pharmacist.
PillPack is available nationwide and is in network with most insurance providers.
Equiscript adds the PillPack benefits to your 340B network:
When you add Equiscript and PillPack to your 340B program, you add an innovative service that is designed to keep your patients healthier, happier, and more adherent. The Equiscript portion allows you to fill eligible patients as part of your 340B network, which generates a new revenue stream for your organization. Equiscript is the only 340B pharmacy service that proactively reaches out to patients who are filling outside of your contract pharmacy network to offer them services within your network. When you add Equiscript and PillPack:
Equiscript will review data from your EMR to find 340B eligible patients who receive care from your organization, but who fill their maintenance medications outside of your pharmacy network.

Equiscript will reach out to these patients to offer them a home delivery pharmacy program that is part of your 340B network.

Patients who choose to enroll receive support from a team of patient care advocates.

Equiscript works with your team to get prescriptions to the correct pharmacy in your network and to verify claims eligibility and manage inventory.

The program generates new revenue for your health center without competing with your in-house or contracted pharmacies.
For more information on adding PillPack to your pharmacy network, please complete the form below.

"It's a natural fit for us, and for our clients," said Equiscript CEO, Michael Burkhold. "Our patients are on an average of eight maintenance medications, and many of them are on medication regimens that require that certain pills be taken together. We offer dose packaging on a limited basis now, but the agreement with PillPack allows us to make this easy-to-use, convenient dispensing system available to all patients. We think it has the potential to really improve health outcomes and simplify a complex process."
Find out more about adding PillPack to your 340B Program