Welcome back to Mission Monday, a blog series where on the first Monday of the month we share accounts from the participants of Equiscript and OneWorld Health's medical mission trip to Nicaragua that took place in December of 2017. Like all blog series, this one must come to an end. For our eighth and final Mission Monday, I will be featuring Ed Gallagher, Patient Enrollment Representative Supervisor at Equiscript.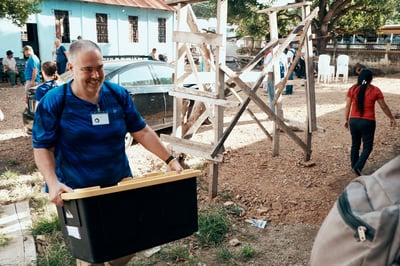 Photo by Sully Sullivan of LawtonMiles for OneWorld Health

Why did you decide to apply?

I definitely wanted to the be the first person from the company to go. I also thought it would be a great opportunity to talk to people at the health centers we service, work with them so they get to know what we do. I felt that was really good so they could put a face with a name and so that I could too. I see Dr. Roller's name on a patient file, I could know exactly who he is or Dr. McCall. You know, I thought that was important to do. It was really good for Mike (Burkhold, Equiscript's CEO) to introduce me to all of them and it was a great experience. As Mike always says, "Our job is to help people in the communities that we serve" and this was the perfect opportunity for me to do that.

As soon as (the Equiscript team) rolled it out in the morning meeting, I got back to my desk and texted my wife and was like, "I have to show you this. I want to do this." (I told the team), "I want to show my wife this. I want to go. I want to start the process." I let Juliet (Quick, Equiscript's Marketing Director) and Nick Zulauf (Equiscript's Patient Enrollment Manager) know right after that stand-up meeting that I was going to apply.
"Those are images that I'll never forget. It was unbelievable."
What was your favorite part about Nicaragua?
Meeting the people. They were so gracious. They were so welcoming to us. They live in poverty but they were smiling and very thankful that we were there. Every parish leader would say a prayer after with us and thank us for being there so that was really cool. I think every place we went there were like 200 people there. The first day there was a huge line of people waiting for us. Another day we went over the numbers and let them come in because we didn't want to let anybody go away not served.
Obviously, the little boy who had HIV. That was just unbelievable seeing Dr. Ray walking with the boy's grandparents house to get the necessary paperwork so they could go and get better treatment.
The older gentleman the first day who walked like five miles to get doctors care with his granddaughter. He had a cane and walked all that way. Those are images that I'll never forget. It was unbelievable.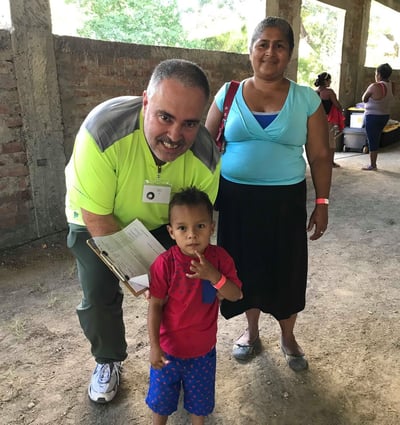 Photo by Ed Gallagher
What was your job at the clinics in Nicaragua?
My job was to weigh every single patient that came through and get their height. I would process them to one of the nurses that would triage them. After the nurses took their blood pressure and talked to them about what was wrong, they would then forward them to a doctor. So I saw almost every single patient except for a couple of times when I took a lunch and another nurse stepped in for me but I pretty much weighed every single patient and got their height.
Do you know approximately how many patients you weighed and measured?
I think the total was around 963 people we saw those four and a half days Monday though Thursday basically 8-5 and Friday till about noon. So yeah, it was about 963 patients that we saw. You know, kids, little babies that weren't even six months old and obviously older people in their eighties and nineties.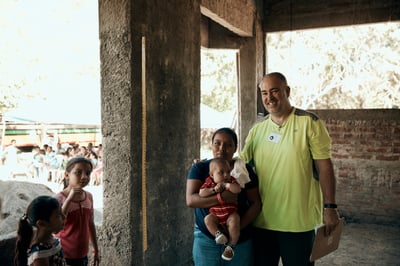 Photo by Sully Sullivan of LawtonMiles for OneWorld Health
Was your favorite part getting to hold the babies?
Totally. While I weighed and got the height of the mother, you know I would hold the baby and that was just amazing they would trust me with their babies without even knowing me. That was pretty cool.
Was getting the height and weight of patients a role that was assigned to you or is that something you volunteered to do when you got to Nicaragua?
We had a conference call. There were only like three of us on a conference call before we left about roles. Most of the people who went were either a nurse or a doctor so they had medical training. Me and this other girl , Dustin, from Mount Pleasant had no medical background. I think she's a mortgage processor or something like that. So Amy (York, from OneWorld Health) offered her and I this job and I said, "Yeah, I'll do that. I'll do the height and weight." So Dustin got to put the arms bands on the people as they came and wrote their name down, address, age, and that kind of stuff. When I was done weighing and getting the height of an individual then Dustin would bring me the next one in line.
Tell me about the team that you worked with.
They were amazing. There were people from all over. Doctor McCall was the chief guy and he was only 25 or 28 years old. The nurses, some of them were just graduating. The pharmacists, I know this one lady I met with they were just finishing up. In February they were going to graduate. It was a good group. We meshed really well together. Even Amy said that was the best group she has worked with.
What did everyone do in their downtime?
The hotel we stayed at, which was a resort, had pool tables so we played pool. We also hung out around the pool and talked. They had ping pong. Every night at dinner we talked about what our experiences were like that day, who we gave a shout out to someone we thought went above and beyond. By the way, just saying I got like four out of five shout outs.
Do you still talk to the other trip participants?
I still talk to some of the nurses. Stephen Roller just had a birthday so I wished him Happy Birthday. Even some of the interpreters I'm friends with on Facebook. It's interesting that we're meeting today because Amy just sent me a text yesterday that they're going to have breakfast at OneWorld Health on Friday and they're going to do a conference call with people (OneWorld health team members) in Nicaragua.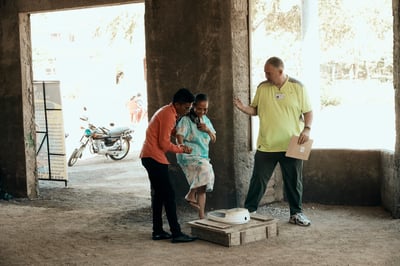 Photo by Sully Sullivan of LawtonMiles for OneWorld Health
Can you tell me about the Nicaraguan people?
They were very thankful, always smiling and laughing. It was just amazing the poverty they come from and they still enjoy life.
Did anything surprise you about the culture?
This was my first time to a third world country. I guess I just wasn't prepared for how third world it was. I figured because Managua is the capital city that it would at least have better roads but it really didn't.
Now hearing about everything that happened after we got back, all of the protests and everything, I told Mike, "We were right there." These things (Trees of Life and statues) were knocked down because of the protests.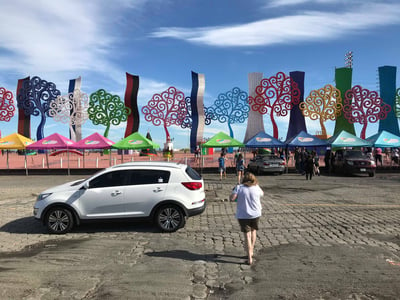 "Trees of Life" designed by the Nicaraguan President's wife, Rosario Murillo. Photo by Ed Gallagher

How did you prepare yourself?
I definitely got shots. I took malaria pills before I went. My doctor has actually been to Nicaragua on mission trips as well and he just told me what to do and I took the advice and went with it. I figured I'd rather be over prepared than not prepared enough.
What did you learn from the trip?
I learned to be grateful. They're living in, I think, squalor. They may not think so but they're living in a lot worse conditions than we are and they're not complaining.
There was one day, we're driving through the town after the clinic and there was a little boy in a doorway and he mouthed the words "thank you" as we were passing through. They don't know much English but he knew how to say that.
Another thing that amazed me, there was someone who had a Clemson shirt on. So I'm wondering where they get all that.
What do you recommend for people when making their submission videos for the 2019 trip?
Be different. I just wanted to be something different.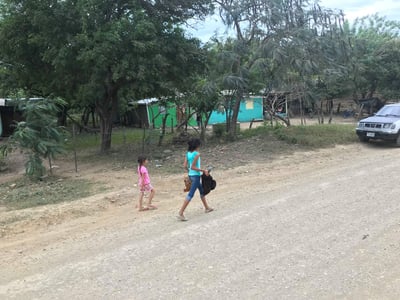 Nicaraguan girl walks with her sister carrying what must be dinner for their family. Photo by Ed Gallagher
"I love this one. This little girl walking down the street carrying chickens. That was day one. We were driving down the street to the first clinic and I looked over and saw her with her sister, probably. She was walking with her dead chickens. You don't see that here! We get our chickens at the grocery store. We don't see that. I just love the rawness of it." - Ed Gallagher
Thank you for following along in our blog series. I hope you enjoyed it as much as I enjoyed sharing it with you. Stay tuned for more updates regarding Equiscript and OneWorld Health's partnership and the next Equiscript and OneWorld Health mission trip.
You can learn more about Equiscript and OneWorld Health by going to www.equiscript.com/owh

Erika Pfeifer, Marketing and Client Success Coordinator
Erika Pfeifer is the liaison between Marketing and Client Success at Equiscript. She works with both teams to collaborate and come up with ways to better reach and serve our patients, clients, and communities. Erika is a graduate of the University of Arkansas where she studied communication and marketing.