Please join us in celebrating Carol Baker, Medical Assistant and Patient Service Representative at Rural Medical Services in Newport, TN. Carol is Equiscript's Site Champion Spotlight for September!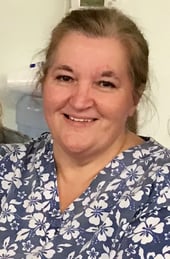 "Few clinical staff care for their patients the way Carol Baker does," said Equiscript Client Relationship Manager, Will Greer. "She's compassionate, detailed and a lot of fun to work with. She has a great energy and rapport with her colleagues and patients."
Site Champions play a very important role in the success of Equiscript home delivery pharmacy programs across the country. Site Champions are chosen by the leadership at their health centers as a point of contact between the Equiscript team, providers, and patients. They are super-organized, super-involved superstars who carry out the tasks necessary to make a successful program.
Rural Medical Services, with five locations in Tennessee, was founded almost 40 years ago in 1980. Our Site Champ, Carol Baker, is a Medical Assistant and Patient Service Representative who has been with the health center for 18 of those years serving patients and her community.
Carol said that being chosen as her health center's Equiscript Site Champion means that her leadership team values her as a "trusted employee" and "someone that will see that any task is done to completion." She enjoys being a Site Champion because she likes, "...the fact that patients are being taken care of and their needs are being met." Carol even said, "If I lived near Charleston, I would certainly apply for a job with Equiscript!"
With a large elderly population, Carol says that many of Rural Medical Center's patients experience transportation barriers. "Many of our patients have to rely on family members or neighbors to provide transportation to doctor visits, pharmacy, outpatient services, and specialist appointments," said Carol. "To get the medicine delivered to their home is a blessing for them and one less worry for me," she added. Carol recommends this program because, "It is very beneficial to have medicines delivered rather than having to make several trips to the pharmacy each month."
"Carol has been a joy to work with!" said Equiscript Account Manager, Tiffany Green. "She is dedicated, detailed and a team player. It has been a pleasure being able to work with her and her team."
The efforts of Site Champions help to ensure that patients get the best quality service, and that they get their medications when they need them - which keeps patients happier, healthier, and more compliant with their healthcare. Thank you, Carol, for being a top-notch Site Champion!