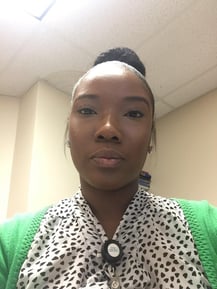 Please join us in celebrating Kendra Lewis, Primary Care Coordinator at Great Lakes Bay Health Center in Saginaw, MI. Kendra is Equiscript's Site Champion Spotlight for July!
Site Champions play a very important role in the success of Equiscript home delivery pharmacy programs across the country. Site Champions are chosen by the leadership at their health centers as a point of contact between the Equiscript team, providers, and patients. They are super-organized, super-involved superstars who carry out the tasks necessary to make a successful program.
"Patient care is one of the top priorities in healthcare. Due to the population that we serve, the simple task of transportation is one of the biggest hurdles in caring for our patients. The convenience of the services Equiscript provides to our patients has helped eliminate some of those hurdles," said Kendra.
Great Lakes Bay Health Center launched their home delivery pharmacy program earlier this year in February of 2018. Client Relationship Manager for Great Lakes Bay, Fran Anderson said, "Kendra always has a great attitude and is wonderful to work with. I've seen how busy she is and she still makes time to talk and meet."
"It has been a pleasure to work with the Equiscript staff," said Kendra. "They are very helpful answering questions that the providers, clinical support staff, and patients may have."
For other site champions, Kendra suggests to "take the time to sit down with patients who could possibly benefit from Equiscript's services." The clinical staff at the health center know their patients best and often refer patients to the home delivery pharmacy program if they feel it's the best way for the patient to get his or her medications.
Great Lakes Bay Health Center has shown amazing progress and success with their program which is no doubt in large part due to their wonderful staff and Site Champions like Kendra.
The efforts of Site Champions help to ensure that patients get the best quality service, and that they get their medications when they need them - which keeps patients happier, healthier, and more compliant with their healthcare. Thank you, Kendra, for being a top-notch Site Champion!