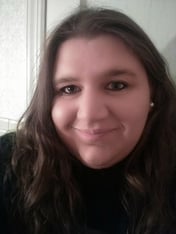 Please join us in celebrating Krista Miller, RN Nurse Manager at Hudson River Healthcare Inc in Peekskill, NY. Krista is Equiscript's Site Champion Spotlight for October!

Site Champions play a significant role in the success of Equiscript home delivery pharmacy programs across the country. They serve as the primary point of contact between the Equiscript team, providers, and patients. Site Champions are super-organized, super-involved superstars who carry out the tasks necessary to make a successful pharmacy program.
Hudson River Healthcare (HRHCare) is a Federally Qualified Health Center (FQHC) that opened its doors in 1975. HRHCare started as a small health center in an old department store building in Peekskill, one of the region's poorest cities. It has grown into 28 health centers in Hudson Valley and Long Island counties serving over 185,000 patients.
Krista Miller, who has been working at HRHCare for three years, said," In a rural area like ours, our patients sometimes have difficulty obtaining their medications, and the Equiscript program is an excellent option. As a Site Champion, I get to help talk to patients about this opportunity and potentially provide a bit of relief to those who are struggling to get their medications because of a lack of transportation or other social issues."
Equiscript Client Relationship Manager, Emily Mark, nominated Krista because "Krista is an amazing advocate for her patients and her team. She is always eager to help in any way she can and is so wonderful to work with!"
Krista cited cost as a significant barrier HRHCare patients experience and having to pay upfront being especially difficult for their patients. "So many people are living on a very tight budget these days, and insurance seems to cover less and less, and often patients cannot pay for their healthcare on the spot. Equiscript and HRHCare work with patients in these scenarios to obtain the healthcare they need at the time they need it," she stated.
Krista advises other Site Champions, specifically ones new to the program, not to be afraid to contact Equiscript for any questions or concerns. She said, "They are great at giving you a prompt answer and providing any form of support they can during the entire process."
Krista recommends the Equiscript program to other organizations because "...this is a great program for organizations who are looking to expand their 340B programs and for organizations that want to offer their patients a new option to obtain their medications. Overall the process is easy, and the Equiscript team is very responsive and helpful."
Site Champions help to ensure that patients get the best quality service, and that they get their medications when they need them - which keeps patients happier, healthier, and more compliant with their healthcare. Thank you, Krista, for being a top-notch Site Champion!