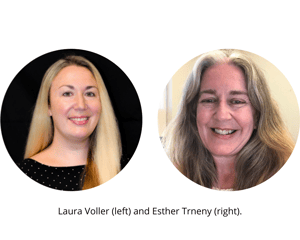 Please join us in celebrating Laura Voller, Director of Nursing, and Esther Trneny, Interim Nurse Manager, at East Bay Community Action Program (EBCAP) in Newport, RI. Laura and Esther are Equiscript's Site Champion Spotlights for June!

Site Champions play a significant role in the success of Equiscript home delivery pharmacy programs across the country. They serve as the primary point of contact between the Equiscript team, providers, and patients. Site Champions are super-organized, super-involved superstars who carry out the tasks necessary to make a successful pharmacy program.

EBCAP is a private, non-profit 501 (c) (3) organization that serves over 30,000 patients in the East Bay area. With nine locations, they provide primary, behavioral, and dental health services to "help EVERY patient get the care he/she needs, at the right time, and in the right place." EBCAP is also extremely active in its community, offering Children and Youth Services such as Baby Steps, Head Start, Healthy Families America, and much more.

Going on twelve years at EBCAP, Laura said, "There are a significant amount of our patients that struggle with transportation. Having a home delivery pharmacy helps take down one of the obstacles for these patients to receive their medications." She also noted that during the pandemic, the program has been, "an even better resource, to people who are immunocompromised and more at risk, to getting medications at the pharmacy."

Esther, who said she's "delighted to be a Site Champion," recommends that other Site Champions not hesitate to reach out to the Equiscript staff. Each client is assigned a dedicated team that helps them take care of their home delivery program. Their goal is to ensure the success of each program and are always eager to help.

Equiscript Client Relationship Manager, Emily Mark said, "Laura and Esther are amazing partners of Equiscript! They are always eager to help and go out of their way to ensure patients receive the best care possible. Not only are they proactive and thorough, but they do so with empathy and compassion. We are lucky to work with such special nurses like Laura and Esther!"

Site Champions help ensure that patients get the best quality service and get their medications when they need them, which keeps patients happier, healthier, and more compliant with their healthcare. Thank you, Laura and Esther, for being a top-notch Site Champions!