Please join us in celebrating Pamela Billman, Licensed Vocational Nurse (LVN) and Assistant Director of Nursing (ADON) at Family Health Center in Waco, TX. Pamela is Equiscript's Site Champion Spotlight for November!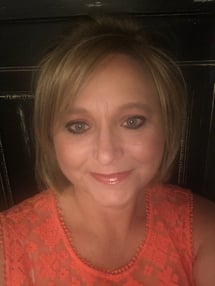 Site Champions play a significant role in the success of Equiscript home delivery pharmacy programs across the country. The leadership at the health centers choose their Site Champions as a point of contact between the Equiscript team, providers, and patients. They are super-organized, super-involved superstars who carry out the tasks necessary to make a successful program.

In November, with the Thanksgiving holiday, we often reflect on what and who we are thankful for. This month (and every month), Equiscript Client Relationship Manager, Brandy Johnson, and Lead Account Manager, Lauren Cox are thankful for Pamela Billman.

Brandy Johnson said, "Pamela is amazing! Her turnaround (responding to prescription requests) is less than 48 hours, and she checks the portal daily. She also calls Lauren and me with anything that doesn't look right on her end. She is just simply a rock star. I would love to duplicate her at every site I have!"

When asked about being an Equiscript Site Champion, Pamela said, "I love it!!!! It's so nice to help people." She also said that she enjoys being able to help and lighten the load for her coworkers when she can.

At Family Health Center, Pamela said one of the main barriers patients struggle with is, "Dealing with the time and turnaround for pending appointments." Equiscript tries to help combat this with its Patient Care Advocates. When the Advocates call patients to review their medications, they remind patients when they are due for an appointment. The reminders allow the patient to schedule an appointment with their provider so they can receive their medications on time.

When asked if she would recommend the Equiscript program, Pamela responded, "YES!!! It helps our patients keep up with refills, helps keep cost down and so hopefully with the medications coming to the house, the patient will be more compliant with taking the medications," she said.

So what is Pamela's secret for being one of Equiscript's top Site Champions? "It's the first thing I check in the morning (the Equiscript portal) and the last thing I check in the evening. To stay on top of it and remember that could be your mom or dad that is waiting on that information to get to the doctor for that medication to be approved," said Pamela. It is that kind of mentality that Equiscript and, more importantly, her patients and her health center appreciate.

Site Champions help to ensure that patients get the best quality service, and that they get their medications when they need them - which keeps patients happier, healthier, and more compliant with their healthcare. Thank you, Pamela, for being a top-notch Site Champion!