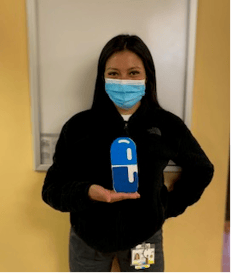 Please join us in celebrating Valeria Ulloa, Enroller/Facilitator at Sun River Health Marilyn Shellabarger in Shirley, NY. Valeria is Equiscript's Site Champion Spotlight for February!

Site Champions play a significant role in the success of Equiscript home delivery pharmacy programs across the country. They serve as the primary point of contact between the Equiscript team, providers, and patients. Site Champions are super-organized, super-involved superstars who carry out the tasks necessary to make a successful pharmacy program.

Sun River Health, formerly known as Hudson River Health Care, opened in 1975 by four African American women to address the community's problems with accessing affordable and quality healthcare. Sun River Health Care has grown into a health system with 40 locations and serves more than 245,000 patients throughout Hudson Valley, New York City, and Long Island.

We were able to ask Valeria some questions about her role and experience as an Equsicript Site Champion. Take a look at what she had to say!

What do you love about your job?
What I love most about my job is helping and serving the community, the mutual affection shared by our staff and the patients we care about.

What do you like about being the Site Champion for your health center's home delivery pharmacy program?
What I like about being the Site Champion for the health center home delivery pharmacy program is the satisfaction of being part of the Equiscript team and collaborating so that patients receive medication delivery efficiently and economically.

How has your experience working with Equiscript been so far?
My experience working with Equiscript so far has been a learning one because this is a program in which I gain experience and I like it because I am able to help.

What advice do you have for other Site Champs?
My advice to other Site Champions is to keep learning about the program and giving our dedication so that our patients have a good quality service with medication delivery.

How valuable is the home delivery pharmacy program to your patients?
Equiscript is really valuable as a home delivery pharmacy program for patients as it is of great help in these times, and even more so in this current pandemic.

What is the main barrier to accessing healthcare that your patients experience?
The main barrier to access to the health center experienced by our patients is the cost of medication.

Would you recommend our program to other organizations like yours? Why?
I highly recommend the Equiscript program to other organizations because it is a program that provides a lot of help and comfort to our patients.

Equiscript Account Executive, Jim Blakely, said, "I nominated Valeria because she manages a large number of enrollments with limited time while maintaining a great collaborative attitude. She is a great example of what it means to be a champion!"

Site Champions help to ensure that patients get the best quality service and that they get their medications when they need them - which keeps patients happier, healthier, and more compliant with their healthcare. Thank you, Valeria, for being a top-notch Site Champion!