Equiscript Receives Platinum Award for 2017 Charleston Healthy Business Challenge
Equiscript, LLC was recognized in a ceremony for the 2017 Charleston Healthy Business Challenge on Wednesday November 15, 2017. The Healthy Business Challenge is a program that was developed by the Medical University of South Carolina (MUSC) and the City of Charleston. Supporting sponsors include Blue Cross Blue Shield of South Carolina and Arthur J. Gallagher & Co.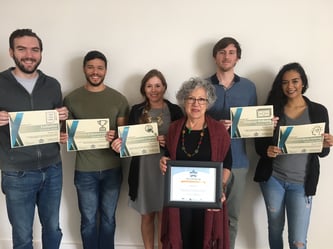 "We are honored to receive this recognition and we want to thank MUSC for their initiative in encouraging companies to participate. We plan to continue to find innovative ways to promote health among our team and community," said Equiscript President and CEO, Michael Burkhold.
The challenge is designed to create a culture of wellness in the workplace through a year long commitment to achieving certain levels of health goals. Points are awarded based on the actions a business takes in achieving those goals. There are a number of resources and strategies that are provided upon registration that assist businesses in carrying out their plan to obtain a healthier work environment.
The challenge focuses on the following:
Nutrition/Weight Management

Physical Activity

Tobacco

Emotional/Mental Wellbeing

Financial Wellbeing

Risk Assessment/Outreach

Incentives and Communication

Evaluation
29 Charleston businesses participated in the 2017 challenge and awards were given in categories of bronze, silver, gold, and platinum. Equiscript received platinum level awards in risk assessment/outreach, emotion/mental wellbeing, financial wellbeing, incentives and communication, and evaluation.
We look forward to another great year as participants of the Charleston Healthy Business Challenge and hope to see more businesses take on this initiative in improving workplace health.
Registration for the 2018 Charleston Healthy Business Challenge will begin January 31st. For more information and how to register, visit http://www.chbchallenge.com/