So, you are interested in applying for a position. Here are some helpful tips to get past the resume screen and score an interview.
Skip the Objective
Having an objective section is quite redundant. Recruiters and hiring managers are aware that by submitting a resume, you are interested in acquiring a job and would like to use your skills to contribute to the company. By leaving out the objective headline, it will give you more room to add valuable content such as an executive summary, or perhaps a section to showcase recognitions and other job highlights.
Update Your Information
When was the last time you updated your resume? Did you graduate, complete a certification, or have left your job? Submitting an outdated resume could make you seem unprepared or less serious about your job hunt. Moreover, you might be selling yourself short by not adding your latest achievements. Remember: your resume is an ad for your personal brand. You don't want to miss the opportunity of making your resume stand out by forgetting to add interesting and valuable information.
Check for Typos, Grammar Errors and Formatting
Admit it--you probably have sent an email, letter, or text message with a typo before. When it comes to professional documents, mistakes should be avoided. These little mistakes can lower your credibility or make you appear careless to a potential employer. Before you submit your resume, have another person, such as a friend or family member, proofread it. Check the document formatting and make sure it is easy to read and is in chronological order. Of course, your resume is not going to be the only thing that hiring managers base a decision on but it is important. An effective resume will get your foot in the door and could score you an interview. Bottom line: first impressions matter if you want the job.
Tailor your Resume to Fit the Job Description
One of the main things that recruiters and hiring managers look for is if applicants have the suitable skills for the job position. But just because you've never had a similar role in the past or have not worked in the industry you are interested in does not mean that you should rule yourself out too quickly. Employees who have come from a totally different line of work can also excel in a different industry. To make yourself relevant, add the right keywords and similar job functions in your resume. For example, if you are applying for an inside sales position, it would be wise to mention your past customer service experience where you had to engage customers and explain features and benefits of a product or service.
Avoid Lies
Yes, definitely tailor your resume to the job you want, however, don't exaggerate and falsify your information. It could put you at a disadvantage when the recruiter or hiring manager conducts a reference check. Also, if you were hired for a position based on the exaggerated skills you have mentioned, it will be exhausting to keep up with something that you are not truly qualified for and could lead to integrity issues. Companies like Equiscript, LLC place a high importance on integrity. It is actually number one in our Cause and Core Values. Make things simple for yourself by being honest, ethical and a person of integrity.
Avoid Filler Words and Use Strong Verbs Instead
Adding words such as "hard-working" or "top performer" might not appear effective on your resume. Instead, list your recognitions and contributions rather than mentioning words like these. Use action verbs such as "implemented" or "initiated." To make it even better, you can mention results and numbers. Mentioning that you "increased sales by 80%" rather than "hard-working" is more powerful.
Don't add "References Upon Request"
There is no need for you to add this on your resume. If a hiring manager decides to move you to the next step, he or she will ask for references.
Don't Use Images and Crazy Fonts
Unless you are applying for a job that requires you to be creative with graphics and art, using images and unfitting fonts such as Papyrus or Comic Sans can be distracting and may not put you in the best light. Choose a better and less distracting option like Arial, Calibri, or Times New Roman. Keep it simple and organized. Your experiences and skills on paper should be enough to convince the recruiter or hiring manager if you are qualified to move to the next step.
If you or someone you know is interested in applying for a job at Equiscript, please share this article or click below to view our current job listings. See also, 5 Things to Do When You Interview for a Job with Our Company, for more info on interviewing with Equiscript.
Did you like our tips for creating an effective resume? Leave your comments below and share with us what tips you have found helpful in your resume writing.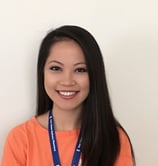 Gladys Osea, Human Resources and Finance Analyst
Gladys Osea is an HR and Finance Analyst at Equiscript. Gladys performs a variety of HR functions and assists in the development of projects in the Finance and Accounting department. Her interests include personal finance, health and wellness, and self improvement. In her spare time, Gladys loves to read and catch up on her tv shows.