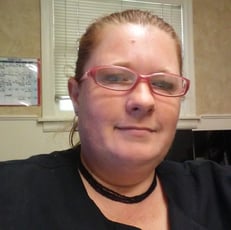 Please join us in celebrating April Stewart, Practice Manager at Texas-based Kaufman Community Health Center. April is Equiscript's Site Champion Spotlight for May!
Site Champions play a very important role in the success of Equiscript home delivery pharmacy programs across the country. Site Champions are chosen by the leadership at their health centers as a point of contact between the Equiscript team, providers, and patients. They are super-organized, super-involved superstars who carry out the tasks necessary to make a successful program. While we love all of our Site Champions, one Site Champion in particular that stands out among the rest is April Stewart, Practice Manager at Kaufman Health Center, which is part of Community Health Services Agency in Greenville, TX.

Community Health Services Agency's Equiscript program launched in July 2017, and from day one April has been our go-to person. April embodies everything Equiscript looks for in a Site Champion (and then some). Eqiscript's Account Manager for Kaufman Community Health Center, Lauren Cox says, "She has been absolutely wonderful to work with since the program was initially launched last July. She is the practice manager and extremely busy with daily tasks, but takes time every day to check the portal for any new enrollments or refill requests. She cares so much about her patients and wants to make sure the program is as successful as possible!"
April says, "Being a Site Champ means striving to improve my patients' health outcomes by cooperating with other entities who can make compliance easier for my patients." When asked what advice she could give other Site Champions April suggested, "Use the (Equiscript portal) website. It is very easy to use, and you can keep track of what is going on more efficiently."
April comes through for patients and for Equiscript because to her, home delivery of medications is "very valuable" and "helps patients stay compliant, thus improving their health outcomes."
The efforts of Site Champions help to ensure that patients get the best quality service, and that they get their medications when they need them - which keeps patients happier, healthier, and more compliant with their healthcare. Thank you, April, for being a top-notch Site Champion!