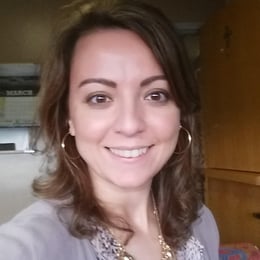 Please join us in celebrating Jessica Boykin, Manager Clinic Operations, Patient experience and Staff Development LCHC/MMG Primary Care at Lawton Community Health Center in Lawton, OK. Jessica is Equiscript's Site Champion Spotlight for May!

Site Champions play a significant role in the success of Equiscript home delivery pharmacy programs across the country. They serve as the primary point of contact between the Equiscript team, providers, and patients. Site Champions are super-organized, super-involved superstars who carry out the tasks necessary to make a successful pharmacy program.

Lawton Community Health Center (LCHC) is a Federally Qualified Health Center (FQHC) and is a service of the Comanche County Hospital Authority. LCHC provides family and pediatric services to Comanche County and surrounding communities in Southwest Oklahoma.

Jessica has been with LCHC for three years and was previously with Comanche County Hospital for twelve years. She said her favorite thing about her job is "helping grow LCHC and taking care of patients and all our clinics!"

Jessica said the Equiscript home delivery pharmacy program has been especially helpful for the patients who are "unable to get out and about." Throughout the COVID pandemic, she said the program has been "a lifesaver for so many of our patients who have had to quarantine or are too afraid to venture out in public."

Jessica's advice to other Site Champions is to "set up a daily reminder to log into Equiscript (the Equiscript Client Portal) to ensure that all patient refills and new patient scripts are taken care of in a timely manner, and if you have any questions or concerns reach out to Equiscript. They are there to help and have been great to work with."

Equiscript Client Success Specialist, Stephanie Bullock, nominated Jessica for the Site Champ Spotlight award because "Jessica is extremely responsive which is very important as a contact within the Equiscript Program. She is easy to reach via email or phone and is always eager to assist. She truly cares about the patients at her health centers and works hard to ensure they receive their medications in a timely manner. Her positivity and dedication to her health centers and patients is truly admirable. We appreciate all that she does to ensure the Equiscript Program runs smoothly!"

Site Champions help to ensure that patients get the best quality service and that they get their medications when they need them - which keeps patients happier, healthier, and more compliant with their healthcare. Thank you, Jessica, for being a top-notch Site Champion!