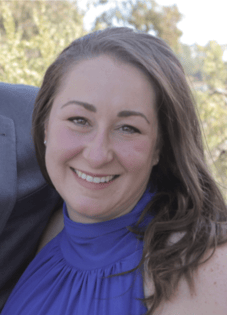 Please join us in celebrating Jillian Kneuer, 340B Program Director at STRIDE Community Health Center in Aurora, CO. Jillian is Equiscript's Site Champion Spotlight for October!

Site Champions play a significant role in the success of Equiscript home delivery pharmacy programs across the country. They serve as the primary point of contact between the Equiscript team, providers, and patients. Site Champions are super-organized, super-involved superstars who carry out the tasks necessary to make a successful pharmacy program.

STRIDE Community Health Center is a Federally Qualified Health Center (FQHC) that was established in 1989, "in response to the primary health care needs of the medically indigent population in suburban Denver..." STRIDE has eighteen locations servicing patients residing outside the City and County of Denver.

We were able to ask Jillian some questions about her role and experience as an Equsicript Site Champion. Take a look at what she had to say!

What do you love about your job?
Ensuring STRIDE's 340B Program is compliant and educating my organization on the positive impact 340B has on our patients and our organization.

What do you like about being the Site Champion for your health center's home delivery pharmacy program?
Equiscript has become my morning ritual. First thing each morning I log into the portal and work all my outstanding tasks. By logging into the portal each morning, I know that our patients' prescriptions are being sent to one of our Equiscript pharmacies promptly, improving medication adherence and patient satisfaction with the home delivery service.

How has your experience working with Equiscript been so far?
Absolutely Excellent! Equiscript has been STRIDE's longest-standing 340B partnership, which has truly been a partnership fostered by collaboration and adaptability.

What advice do you have for other Site Champs?
Actively managing the new enrollments and refill requests on Equiscript's website. Also, establish relationships with your providers, so that they know who to work with, within the organization, to answer any questions patients may have about Equiscript.

How valuable is the home delivery pharmacy program to your patients?
Home delivery is extremely valuable to our patients, by providing convenience which ultimately improves adherence.

Would you recommend our program to other organizations like yours? Why?
I would highly recommend Equiscript to other health centers like mine. I have had a great experience working with Equiscript to manage the program and Equiscript is providing a service that we otherwise would not be able to provide to our patients.
Is there anything else you would like to add?
If you're looking for a 340B vendor who truly stands out from the rest, has exclusive relationships with home delivery pharmacies, and is a real partner in caring for your patients, please learn more about what Equiscript can your patients and organization.
Equiscript Account Executive, Georgia Spiropoulos, said, "Jillian does a tremendous job making managing our program. She works in the Equiscript portal diligently to ensure patients enrolled have their prescriptions as required and any additional support they may need. She is committed to growing the program to reach as many patients in her community that can benefit from our services to be able to be adherent with their medications. She is a true partner who works with us to provide feedback that can improve our program and our service to patients. She is a true champion for both STRIDE and Equiscript."

Site Champions help to ensure that patients get the best quality service and that they get their medications when they need them - which keeps patients happier, healthier, and more compliant with their healthcare. Thank you, Jillian, for being a top-notch Site Champion!