Please join us in celebrating Lourdes Aguilar, Licensed Vocational Nurse, Lead at Ampla Health in Olivehurst, CA. Lourdes is Equiscript's Site Champion Spotlight for April!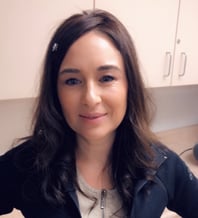 Site Champions play a significant role in the success of Equiscript home delivery pharmacy programs across the country. The leadership at the health centers choose their Site Champions as a point of contact between the Equiscript team, providers, and patients. They are super-organized, super-involved superstars who carry out the tasks necessary to make a successful program.

Ampla Health is a federally qualified health center (FQHC) that opened in 1964 to serve "seasonal and migrant farm workers and low-income populations." Ampla has grown to thirteen medical centers and six dental centers across Northern California.

Equiscript's Site Champion and Ampla's Lead Vocational Nurse for their Olivehurst location has been with the health center for the last twenty years and said, "...helping my patients is my passion," and being selected as the Equiscript Site Champion Spotlight for April makes her feel proud of what she does.

Equiscript Account Manager, Mitchell Brewer, nominated Lourdes for the Site Champ Spotlight award and said, "Lourdes has stepped in and has done an incredible job with the home delivery pharmacy program. She is hard working and a pleasure to work with. This nomination is much deserved."

Ampla Health's Equiscript Home Delivery Pharmacy Program launched in July of 2017. Lourdes said that working with Equiscript has been great, but at first, it was hard to get the providers on board with the program. Many of our other clients experience the same obstacle. Lourdes' advice for other Site Champions who struggle with getting provider buy-in with the Equiscript program is "explaining to the providers what Equiscript does for patients. Your job becomes much easier when they have a better understanding. I think if we follow up with providers periodically and show them the outcome of the program for our patients using Equiscript, this program will succeed."

Equiscript Client Relationship Manager, Vivian Suarez said, "Lourdes has gone above and beyond to make sure patients prescriptions are being sent back to us in a timely manner. She is always very responsive when we reach out to her for anything and is always happy to help with a smile on her face."

Lourdes said that the Equiscript program has been "very valuable" especially for their patients who struggle with getting reliable transportation to pick up prescriptions. She also said that the program is "very easy for patients that have vision problems" because Ampla Health can offer PillPack which provides patients with a simpler way to take their medication.
Site Champions help to ensure that patients get the best quality service, and that they get their medications when they need them - which keeps patients happier, healthier, and more compliant with their healthcare. Thank you, Lourdes, for being a top-notch Site Champion!