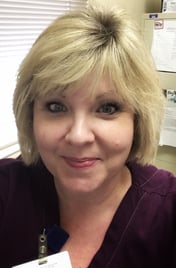 Please join us in celebrating MaryLynn Hubbard, RN Coordinator at Ramer Health Center, an Office of Health Services, Inc. in Ramer, AL. MaryLynn is Equiscript's Site Champion Spotlight for September!
Site Champions play a significant role in the success of Equiscript home delivery pharmacy programs across the country. They serve as the primary point of contact between the Equiscript team, providers, and patients. Site Champions are super-organized, super-involved superstars who carry out the tasks necessary to make a successful pharmacy program.
Health Services, Inc. (HSI) has been serving communities in Alabama for nearly 50 years. HSI is "the first Federally Qualified Health Center in Alabama to earn dual accreditation with the Joint Commission and has earned their Gold Seal of Approval…", HSI has also received Ambulatory Health Care Accreditation.
MaryLynn Hubbard has been with HSI for nineteen years. She said her favorite thing about her job is being able to make a difference in the community in which she lives. "Ramer is a rural area in Montgomery County, Alabama. The people here need health care where they live and HSI fulfills this need in my community," said MaryLynn.
Ali Fortin of Equiscript nominated MaryLynn for the Site Champ Spotlight award because MaryLynn has always been so engaged with our program and is wonderful to work with.
Some HSI patients would have to travel 20-25 miles to get to the pharmacy and many are elderly and don't drive. "Having a mail-order pharmacy can alleviate one problem for them: the issue of how they are going to get their medication," said MaryLynn. "This gives the patient control over their health, which is a powerful thing."
MaryLynn's advice for other Site Champions is to "foster a good relationship with your account manager at Equiscript and to always listen closely to your patients. These tools will help you help your patients make the best choice for them."
Site Champions help to ensure that patients get the best quality service, and that they get their medications when they need them - which keeps patients happier, healthier, and more compliant with their healthcare. Thank you, MaryLynn, for being a top-notch Site Champion!