The 340B Program is a US Federal program requiring drug manufacturers to offer discounts on drugs to qualified safety net providers to stretch scarce federal resources, reach more patients, and provide more comprehensive services.
For those of you who want a more in-depth definition, keep reading.

340B in More Than One Sentence
The 340B Drug Pricing Program was created in 1992 as part of the Veterans Health Care Act, which was passed by a bipartisan Congress and signed into law by President George H.W. Bush.

The purpose of the program is to enable covered entities to stretch scarce Federal resources as far as possible, reaching more eligible patients, and providing more comprehensive services.

340B helps covered entities generate resources through savings they realize by buying medications from pharmaceutical industry manufacturers at a reduced rate.
Who qualifies for 340B?
To qualify for the 340B program, safety-net providers, who are federally-qualified health centers or hospitals, must serve an underserved population. That's typically a health center that serves a higher percentage of uninsured or low-income patients, or it can also be a hospital or health center that is in a rural area, where patients wouldn't have access to health care if that facility didn't exist.
Types of entities that participate in 340B include:
Health Centers
Federally Qualified Health Centers
Federally Qualified Health Center Look-Alikes
Native Hawaiian Health Centers
Tribal/Urban Indian Health Centers
Ryan White HIV/AIDS Program Grantees
Ryan White HIV/AIDS Program Grantees
Hospitals
Children's Hospitals
Critical Access Hospitals
Disproportionate Share Hospitals
Free Standing Cancer Hospitals
Rural Referral Centers
Sole community Hospitals
Specialized Clinics
Black Lung Clinics
Comprehensive Hemophilia Diagnostic Treatment Centers
Title X Family Planning Clinics
Sexually Transmitted Disease Clinics
Tuberculosis Clinics
How does the 340B program work?
As we said before, 340B requires drug industry manufacturers to charge less for their medications when they are selling them to qualifying covered entities.

Here's an example of how this works:
Say a clinic has two patients: Mary and Joe. Both Mary and Joe take insulin every month to manage their diabetes.

Mary has insurance. Her insurance pays $1,000 per month for her insulin. A non-340B pharmacy may pay $900 to buy the insulin from the drug manufacturer. So, in a non-340B pharmacy situation, Mary's insurance would pay the pharmacy $1,000. The pharmacy pays $900 for the drug, and the pharmacy's profit for dispensing the drug is $100.

If Mary were to fill that drug at a qualifying 340B pharmacy, what happens is that the pharmacy has a section of their inventory that is owned by the health center where Mary's doctor works. When Mary purchases her insulin here, her insurance still reimburses it at $1,000, but with the 340B pricing, the covered entity is able to purchase the insulin at a reduced rate of $500. This means that there is a savings of $500 that the covered entity can use to help expand care in their community.

One way they may want to do this is with Joe.

Joe takes insulin every month, but he doesn't have insurance, and he can't afford to pay for his insulin, even at the reduced $500 rate.

340B exists to help uninsured and low-income patients like Joe better afford their medications and to help generate financial resources for the covered entities that serve these patients.


How does 340B benefit my community?
The 340B program generates financial resources for your community safety net health centers and hospitals. These facilities use savings generated through 340B to expand care in their communities. This can mean paying for staff members, staying open more hours, or adding new equipment or facilities. For a detailed look at how some hospitals use the savings generated through their 340B programs, click here.
Who runs the 340B program?
The 340B program is administered and regulated by the government's Office of Pharmacy Affairs, which is part of HRSA, the Health Resources and Services Administration, which is part of the Department of Health and Human Services.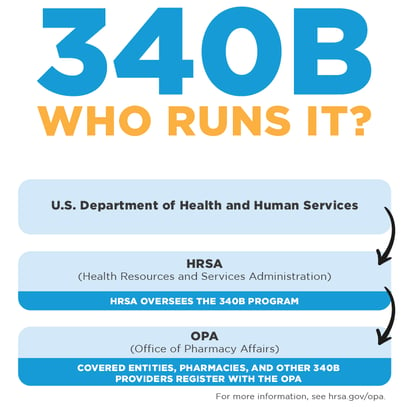 One of the best things about 340B is that it doesn't cost taxpayers any money. It's funded through a mandatory drug discount that only accounts for about 3% of the $457 billion dollars that drug industry manufacturers make each year.

And that small percentage does a world of good in communities across the country.

340B in Your Community
About 12,000 covered entities across the U.S. participate in 340B, and whether you live in a small town or a big city, chances are, a 340B covered entity has provided health care to you or a member of your family.

The 340B program is a way for health care providers across the country to improve access to care in the communities they serve. If you are working for a 340B-eligible covered entity you are already part of a much broader network that is dedicated to taking care of patients and helping build healthier communities across the U.S.