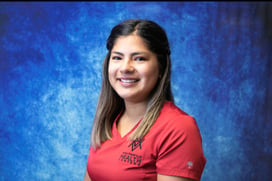 Please join us in celebrating Mirella Torres, Case Manager, Medical Assistant, and Translator at Arkansas Verdigris Valley Heath in Porter, OK. Mirella is Equiscript's Site Champion Spotlight for July!

Site Champions play a significant role in the success of Equiscript home delivery pharmacy programs across the country. They serve as the primary point of contact between the Equiscript team, providers, and patients. Site Champions are super-organized, super-involved superstars who carry out the tasks necessary to make a successful pharmacy program.

Arkansas Verdigris Valley Health Centers (AVV Health Centers) is a Federally Qualified Health Center (FQHC) with four locations in eastern Oklahoma that offer a variety of medical and specialty services.

We were able to ask Mirella some questions about her role and experience as an Equsicript Site Champion. Take a look at what she had to say!

What do you love about your job?
Getting to work with people every day and help them as much as I can!

What do you like about being the Site Champion for your health center's home delivery pharmacy program?
I am honored and extremely grateful.

How has your experience working with Equiscript been so far?
Great!

What advice do you have for other Site Champs?
Having great communication with your Equiscript representative is such a blessing.

How valuable is the home delivery pharmacy program to your patients?
It is so valuable to our patients who live in rural areas in our state.

What is the main barrier to accessing healthcare that your patients experience?
Language and transportation - which we offer at our healthcare facility.

Would you recommend our program to other organizations like yours? Why?
Yes! Being able to work with Lila Rx and Equiscripts can facilitate the lives of your patients and providers as well.

Equiscript Account Executive, Georgia Spiropoulos, said, "Mirella is committed to the care of her patients and works hard to ensure they receive their prescriptions. These patients need a little extra care and she provides that for them. Equiscript appreciates and recognizes her support of our program."

Site Champions help to ensure that patients get the best quality service and that they get their medications when they need them - which keeps patients happier, healthier, and more compliant with their healthcare. Thank you, Mirella, for being a top-notch Site Champion!